Our Team of Experts
With over 25 years collective experience, award winning team Carol and Jess (mum and daughter) are proud to offer the highest levels of service in the areas of beauty, remedial massage, spa and non-surgical treatments.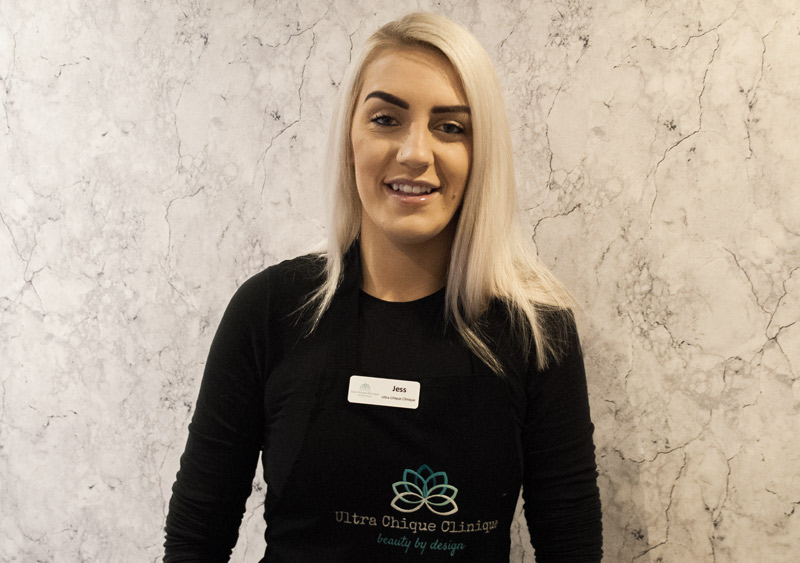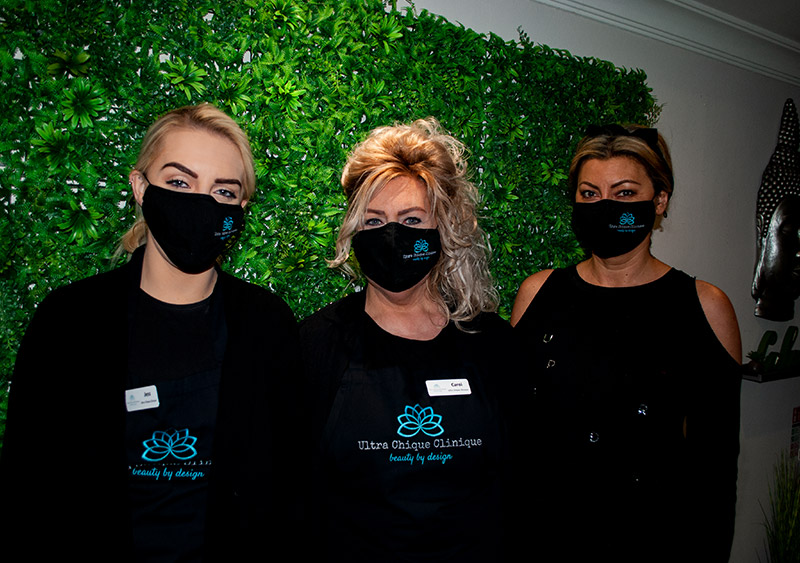 Regarded for its warm welcome, levels of care and attention to detail the 5-star rated salon offers 3 primary areas of professional practice:
Carol
At a very young age I loved anything beauty related and as I grew so did my passion, it came as no surprise when I announced I wanted to be a beauty therapist. 1985 I enrolled at Kirby College and I could hardly contain my excitement to  commence my beauty therapist training.
Shortly after finishing college I opened my first beauty salon, I was thrilled to have my own business and loved building friendships with clients and to say I was devastated is putting it mildly when I gave up my beauty salon due to a family relocation.
I always kept my hand in beauty, I undertook new courses, upskilling ready for my return. I've continued to advance my skills and gained extensive knowledge in massage therapies enabling me to offer personalised bespoke treatments.
I was so proud when I reopened in 2014, it felt like coming home and within 2 years I had the fantastic opportunity to relocate expanding my business within Jurys Inn, I  was so excited to offer spa packages and employ my wonderful daughter Jess.
We've become a strong united highly skilled team; we share the same passion and business ethics as we strive to offer the highest level of service using only the finest skin care products with the main focus on our client's experience. We are very proud our hard work is acknowledged by all the wonderful 5-star reviews we've received and the icing on the cake so far was receiving the Highly Commended award at 2019 Beauty Industry Awards judged purely on our clients votes and reviews.
We pride ourselves on ensuring everyone is welcomed and enjoys the calming ambience we've created in our beautiful tranquil environment to escape from the from the challenges of life for a while.
Jess
My first love for beauty was nail varnish I loved painting nails even our cat Thomas claws. In my teens I began experimenting with makeup, doing my own and friends that's when I knew beauty was the right career for me, it helped mum being a beauty therapist too. I left school, enrolled at Middlesbrough College commencing level 2 Beauty Therapy after completing my first year I was keen to learn more, so I continued my  training and gained level 3 Beauty Therapy.
I was in a very fortunate position as mum had just relocated her business taking over Jurys Inn Beauty salon with 3 treatment rooms, reception and spa facilities. This was an amazing opening for my career starting an exciting new venture with my mum  located within a 4-star hotel with pool, sauna steam room, jacuzzi and restaurant enabling us to offer spa packages.
Mum and I are a great team, I really enjoy working and running the business with her and I've gained so many new skills, undertaking additional learning also enhancing my nail skills too, I love doing nails chatting to our lovely clients.
Still eager to learn and advance my skills further I enrolled on level 4 beauty therapy. I am now fully qualified in Derma rolling, Microdermabrasion, Chemical peels, IPL hair removal, Enhanced IPL anti-aging facials, IPL acne, pigmentation, photo-rejuvenation treatments, Spider vein removal and Laser tattoo removal. With my advanced skills I now manage our Clinic offering non-surgical facials, body sculpting, fat reduction, advanced skin tightening, Brazilian bottom lift, photon light therapy and the ILP laser treatments.
Mum and I have recently completed a specialist cancer massage training course and with this qualification we will be able to safely offer massage therapies to clients who have experienced or receiving treatment for cancer. I also recently enrolled on Lycon wax training course and when complete I will be fully qualified in all areas of waxing including Hollywood and Brazilian.
I'm excited about our future, the progression of the business and looking forward to further technologies we introduce into the salon.
Carol and Jess have completed Specialist Cancer massage training provided by IBHA in partnership with the Amethyst Trust, enabling them to safely offer massage therapies to clients who have experienced or receiving treatment for cancer. They will also donate a percentage of every cancer massage they provide to Cancer Research UK.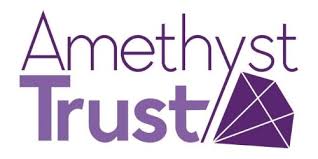 Beauty
[ comfort zone ] luxury facials, deluxe hand & feet treatments, express nails, spray tanning, eyelash lift & tinting, eyebrow wax & tinting, Lycon waxing, body firming wraps, Himalayan salt body polishing and extensive range of high end remedial massage therapies. 
Clinic
Cavitation fat melting inch loss, advanced Radio Frequency skin tightening, Non-surgical facelift, BIO micro current for delicate eye area, Stretch mark reduction, Brazilian bum lift, ILP hair removal, laser treatments, carbon facials and Specialised facials – Microdermabrasion, Vacuum suction & Photon light therapy.
 

Spa

Spa facilities including pool, jacuzzi, sauna and steam room. Spa packages are currently not available due to COVID19 restrictions 

Beauty By Design
Beauty by design . . . in practise At Ultra Chique Clinique our methodologies are based on the unique philosophy of 'ONE':
Organic
O • therapies are designed to be Organic; to relax
Nourishing
N • treatments are designed to be Nourishing; to renew
Enhance
E • procedures are designed to Enhance; to restore 
Carol is amazing and so are her daughters very welcoming atmosphere and gorgeous treatment rooms thanks again!
The Leahy family would just like to thank you for our treatments last night & your wonderful service, very relaxing we will all be booking again very soon.
Enjoyed a fantastic spa day at Ultra Chique Clinique. The spa is well decorated and extremely clean. The robes provided were very soft and comfortable. The owner of the spa is lovely and really genuine. Will certainly be going back again and would definitely recommend to anyone who enjoys a pamper.
Carol was excellent customer service and warm and friendly. When I'm back next I will have a facial. Thankyou so much xxx
Absolutely love everything about this place. Carol is just incredible, I won't go anywhere else for my treatments.
Had a fab spa day from start to finish. Can't wait to book for next one.
Can't recommend here enough. Lovely friendly team and great spa facilities.
If you're like me and work hard long hours it's well worth a treat to benefit mind, body and soul. Thank you Carol for a wonderfully relaxing treatment.

Awards
Best Beauty Salon of the Year – North England Prestige Awards 2020.
The awards recognise the important work of SME's and celebrate their many success and outstanding service over the year.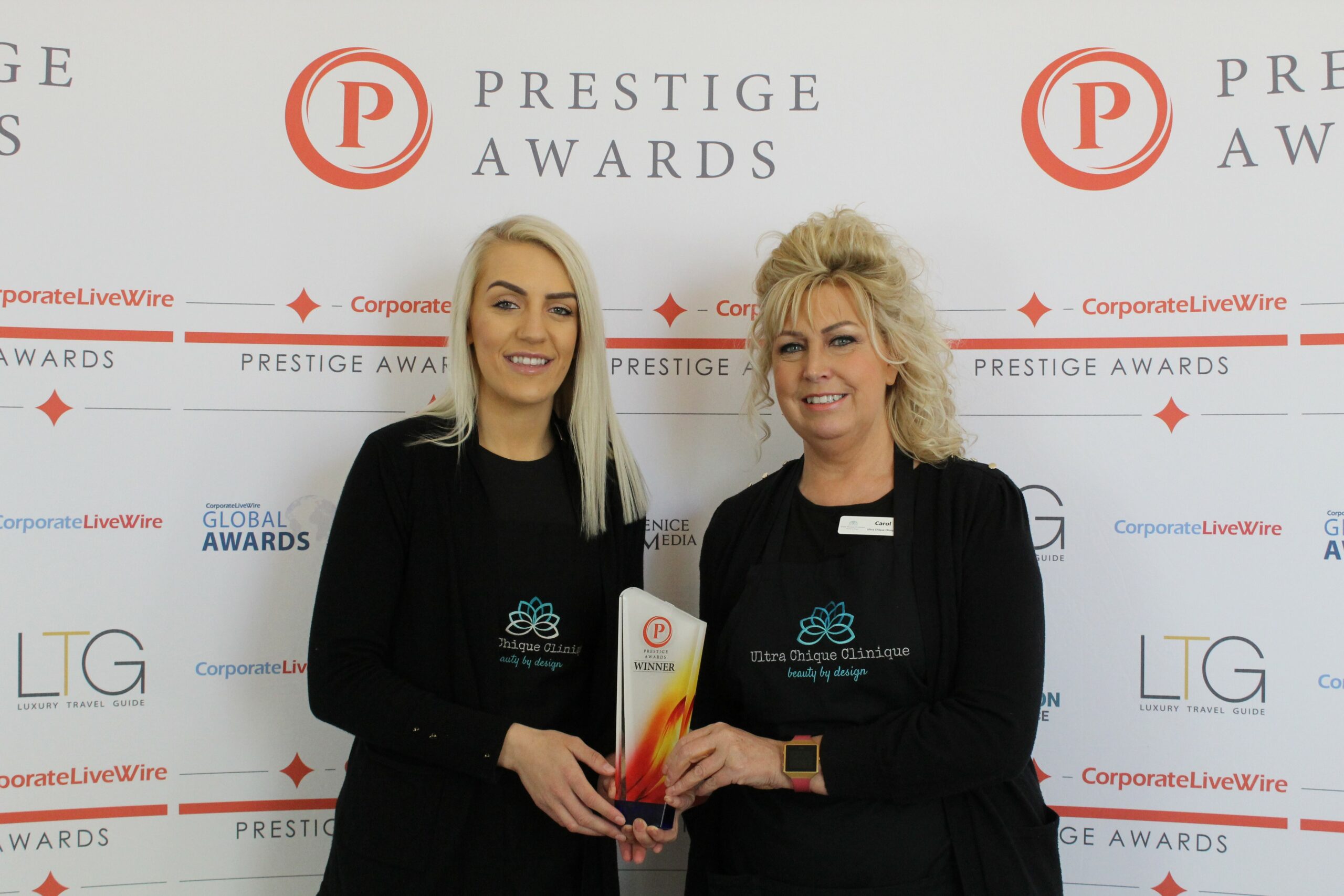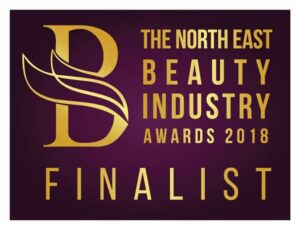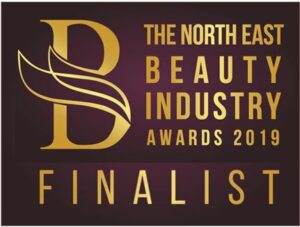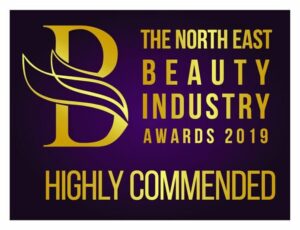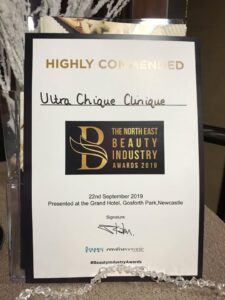 Brands We're Proud to Work With